jamdani weaving
2019年 01月 09日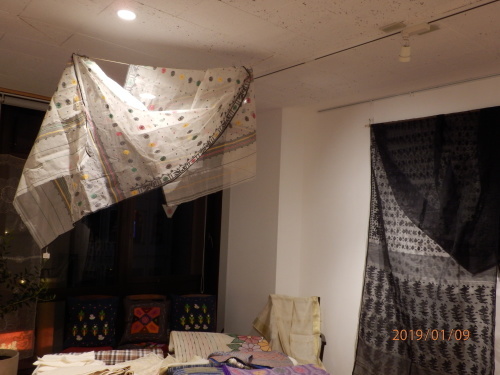 Gallery Sakura Mohila holds "Jamdani Fair" from the 19th of January to through the 28th. From 11:00 to 18:00, Tuesday: closed
Jamdani weaving is one of the most valuable weaving in Bangladesh. It dates back around 3rd C, BC. The beauty of the cloth florished under the patronizing of the Mugal Dinasty. But it gradually became on decline: By the British colonization, the quality of the yarn got worse and the decline of the Mugal Dinasty.
Now the cloth was revivied to show us flower fields on the cloth. It requires great skill to weave, however the artisans cannot afford to earn good money, and less and less people are attracted to the art of jamdani weaving for their living.
In persian language, "jam" means flower and "dani" means vase.
The beauty of the cloth is on display at Gallery Sakura Mohila. I hope you visit the gallery to see the old flowering beauty. The place is about 3 minutes' walk from JR Omiya station.
Oshida Kenbundo book store, 3F
1-18 Miya-cho Omiya-ku Saitama-shi 330-0802
Tel:080-5008-0562
by sakura_mohila | 2019-01-09 17:38 | Comments(0)