From the table of Gallery Sakura Mohila
2018年 11月 22日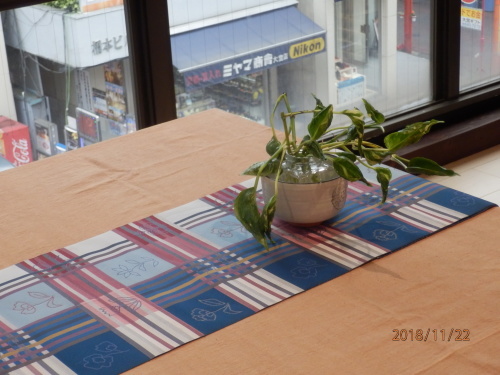 Gallery Sakura Mohila, the newly born show room of Sakura Mohila, is open from 11:00 to 18:00, on the 3rd Floor of Oshida Kenbundo Book shop, east side of Omiya JR Station. Tuesday is closed.
The Gallery has a tea table at one corner, from where I uplord the blogue pages. Hope you visit the place.
The table is now covered with a double lock khadi, which Sakura Mohila had its men hand-weave. The color comes from Persimmon tunnin. The green is in a tea bowl from the nearby old local shrine as a memorial event of 150 years from the Meiji Emperor's visit.
Sakura Mohila mainly deals Bangladesh hand-made cotton. It started the relation with Bangladesh when it helped a Narayanpur village school 26 years ago. The relation has been developing to schoolings, village ladies working systemisingand Bangladeshi traditional handicraft people's reviving. The 26 years is, I should tell you, very long and at the same time very short. When I stood at the entrance of the Gallery Sakura Mohila, I lost all the words from my heart. I saw a long road of its past and a thin line in front shinning in gold.
Now I am sitting at the Gallery tea table, and the light is coming from wide open windows.
Hope you enjoy this blogue pages from the Gallery tea table.
by sakura_mohila | 2018-11-22 13:21 | Comments(0)